In the world of short-term rentals, it's all about Memorial Day to Labor Day. Homes in popular vacation spots from Malibu to The Hamptons are emerging with rental prices from $100,000 to more than $1 million total for the summer.
While many associate these numbers with buying a home — not renting one for three months — these listings typically attract renters soon after they hit the market. For those who can afford it, they offer the chance to live in the lap of luxury — without having to think about a mortgage or resale value.
Here's a look at a few high-end summer rentals currently on the market. Some are offered for a flat fee; others have a monthly rate for the 3-month peak vacation season. (You might have some negotiating power with Memorial Day behind us, but don't expect to rent one of these pricey pads for less than six figures.)
Beverly Hills: $1.8 million ($600,000/mo.)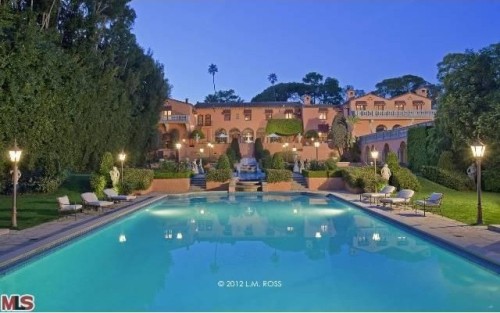 Perched above the Beverly Hills Hotel at 1011 N Beverly Dr, Beverly Hills, CA 90210, the Beverly House was a for-sale listing asking $115 million before becoming a rental. Whether you're in the market for a summer home or a year-long lease, the price remains $600,000 per month.
While its ornate architecture and furnishings are notable, the home is most-known for its celebrity history — from publishing magnate William Randolph Hearst, who was given the home by actress Marion Davies in 1946, to John and Jacqueline Kennedy, who spent time there during their honeymoon. The 3.7-acre compound has also served as a set for "The Godfather" and "The Bodyguard."
Water Mill: $550,000 (flat fee)

Located on Mecox Bay between Bridgehampton and Southampton, Water Mill, NY is an exclusive destination for the rich and famous (Jennifer Lopez just dropped $10 million on a 3-acre estate in the area).
Similar to the Beverly Hills listing above, this Water Mill home first hit the market as a for-sale listing in 2011. After several price changes, the home is now being marketed as a summer rental for a flat fee of $550,000 for Memorial Day through Labor Day. The house includes a master suite with a private terrace, 3 additional bedrooms, an oversized granite pool and spa.
Bridgehampton: $475,000 (flat fee)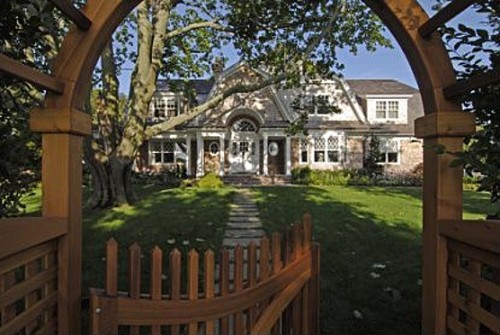 Bridgehampton is another coveted Hamptons locale, with Goldman Sachs CEO Lloyd Blankfein recently buying a house listed for $32.5 million. Last summer, Beyonce and Jay-Z escaped Manhattan with a Bridgehampton summer rental coined "The Sandcastle."
Measuring 10,000 square feet, this Bridgehampton home has 7 bedrooms, 9.5 baths, a pool, movie theater, gym, 4 fireplaces and a wine cellar. Close to local shops, restaurants and the beach, it's an ideal getaway during the summer months, and the price reflects this with a $475,000 flat fee from Memorial Day to Labor Day versus $150,000 for the winter.
Southampton: $395,000 (flat fee)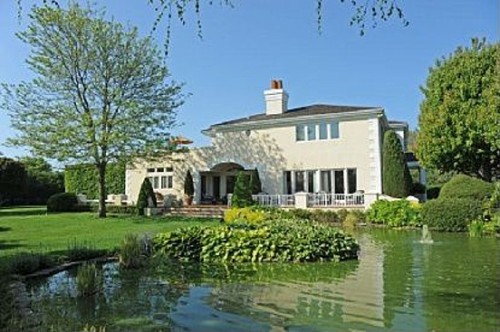 Live like Kate Spade with this Southampton summer home located on your own private pond. The property features 5,800 square feet of living space on 2 landscaped acres with a heated pool and tennis court. Located a block from the Hamptons waterfront, the estate also comes with deeded beach access.
If you're looking for a longer-term rental, listing agent Nancy Hardy of Halstead Property says additional prices are available.
Malibu: $300,000 ($100,000/mo.)

Located behind Malibu Colony's prestigious gated entrance at 23716 Malibu Colony Rd #28, this home is available only for the summer months, as the homeowners live there the rest of the year. For $100,000 a month, the Cape Cod-style beach house comes with a private deck right on the beach, 5 bedrooms, 5.5 baths and an attached gym.
Malibu is a popular second-home destination for the celebrity set flocking from nearby L.A. While some like to buy their own place, others including Usher and P. Diddy have gone the rental route.
Luxury Summer Rentals: Is $1 Million the New Normal? | Zillow Blog.