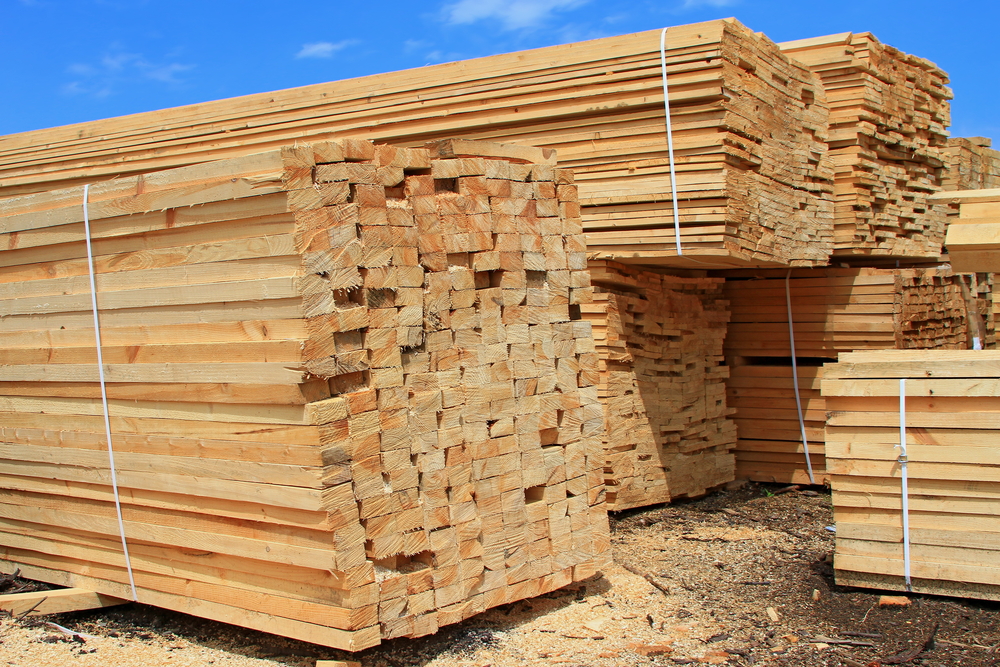 Photo: smereka, Depositphotos
The Canadian Thanksgiving long weekend brought a not-surprising further drop in prices of most benchmark construction framing dimension softwood lumber commodities, as the days got increasingly shorter and the weather turned ever more winter-like. Demand across North America was almost entirely for small fill-in orders, while sawmills were preoccupied with locating shipments long-ago sent to customers but still not arrived, according to Madison's Lumber Reporter.
The big question on the mind of industry players is, "Where is the price bottom and when will that arrive?" No one yet knows the answer for this, except to say it will be much higher and much later than in usual years. The latest lumber production and sawmill capacity utilization rates data release from the Western Wood Products Association — for July — shows a marked downturn in Canada. In the US, softwood lumber production continued to recover. The all-important wood manufacturing volumes in Canada took a significant tumble downward in July 2020, after recovering nicely in May and June from terrible lows of April. This decrease in lumber available for sale after the supply constraints earlier in the year well explains why prices remained so high even until now.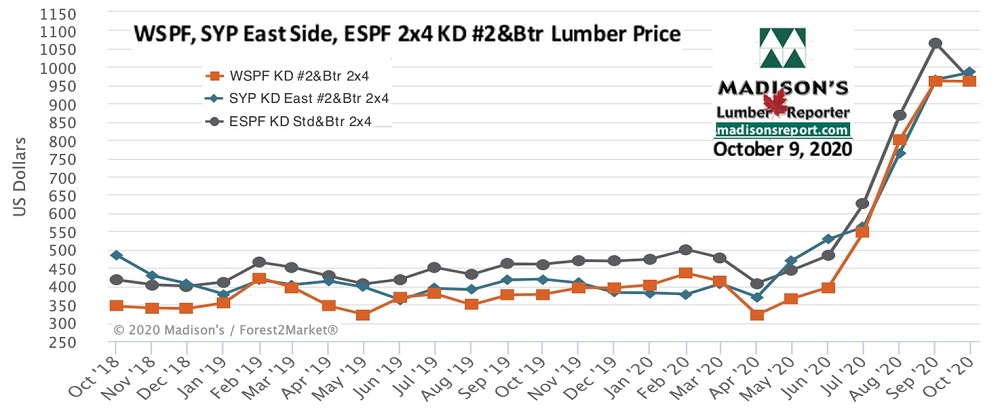 Prices continued to crash down in the Eastern S-P-F market last week. A large contingent of buyers participated, but the focus was on Less-Than-Truckload orders from the distribution network at wildly varying – but resoundingly lower – numbers. Overall sales volumes were strong but individual orders remained small as customers refused to take long positions in a falling market. Prompt wood became more common with each passing day as sawmills began to run into order files on a number of items, while production of bread and butter items were booked at around two weeks.

For the week ending October 9, 2020 the price of Eastern softwood lumber commodity item Eastern S-P-F KD 2×4 #2&Btr dropped once more, to land at US$920 mfbm, said Madison's Lumber Reporter. This price is now -$85, or -8%, less than it was one month ago. Compared to one year ago, this price is up a remarkable +$465, or +102%.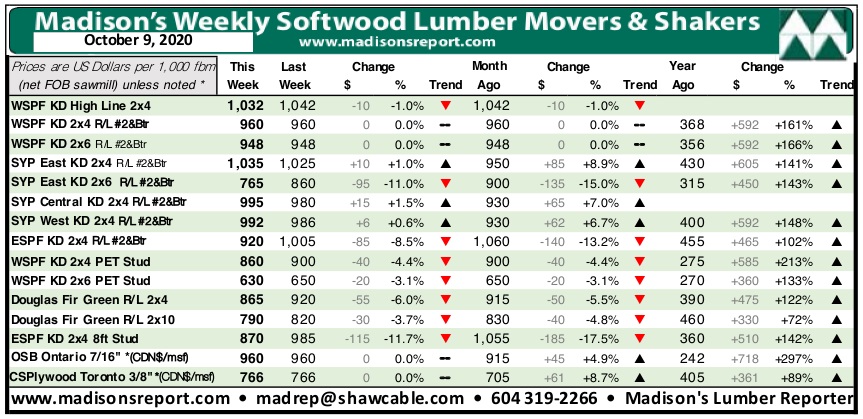 Compared to one-year-ago, last week's Eastern S-P-F KD 2×4 #2&Btr price was +$343, or +59%, higher than the 1-year rolling average price of US$577 mfbm and was up +$416, or +83%, compared to the 2-year rolling average price of US$504 mfbm.
The below table is a comparison of recent highs, in June 2018, and current October 2020 benchmark dimension Softwood Lumber 2×4 prices compared to historical highs of 2004/05 and compared to recent lows of September 2015:

read more…