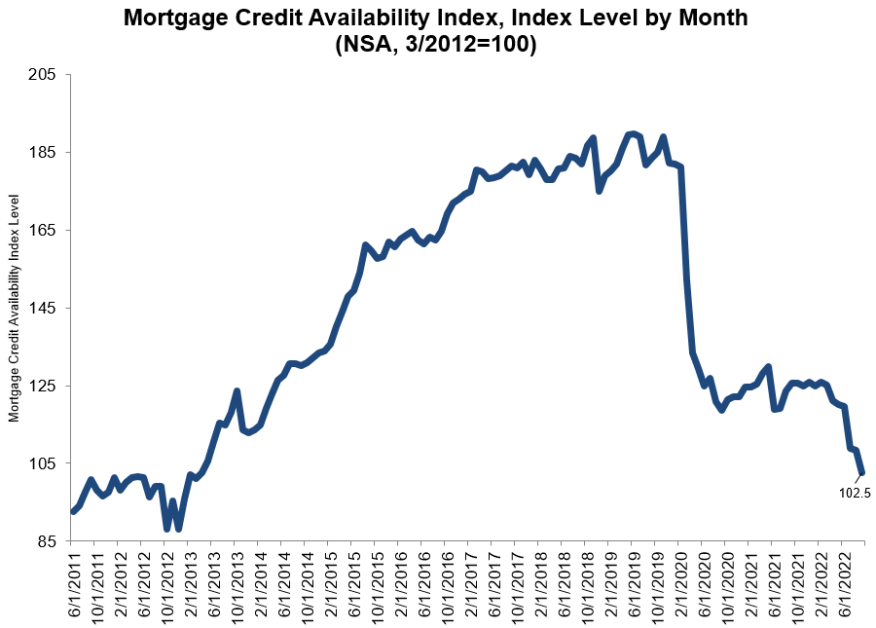 Fell to the lowest level since March 2013, following seven straight months of tightening credit.
KEY TAKEAWAYS
A decline in the MCAI indicates that lending standards are tightening.
Mortgage credit availability decreased in September, falling by 5.4% to 102.5, its lowest level in nine years.
That's according to the Mortgage Bankers Association's (MBA) Mortgage Credit Availability Index (MCAI), a report that analyzes data from ICE Mortgage Technology.
A decline in the MCAI indicates that lending standards are tightening, while increases in the index indicate loosening credit. The index was benchmarked to 100 in March 2012.
The Conventional MCAI decreased 4.9%, while the Government MCAI decreased by 5.7%. Of the component indices of the Conventional MCAI, the Jumbo MCAI decreased by 5.8%, while the Conforming MCAI fell by 3.6%.
"Credit availability fell to the lowest level since March 2013 — the seventh consecutive month of tightening," said Joel Kan, MBA's associate vice president of economic and industry forecasting. "With the likelihood of a weakening economy, which would lead to an increase in delinquencies, there was a smaller appetite for lower credit score and high LTV (loan-to-value) loan programs, along with a reduction in government streamline refinance programs. As mortgage rates have more than doubled over the past year, resulting in a drop in refinance activity, lenders have worked to reduce excess capacity and costs by eliminating underutilized loan programs."
Kan added that all of the MCAI's component indices declined last month, "with most of the indices falling to their lowest levels in over a year. In particular, the government credit availability index has declined in seven of the last eight months to its lowest level since April 2013."
Credit availability continued to trend downwards and hit a new low, beating July's 9% drop to 108.8 and August's 0.5% drop to 108.3.
read more…
nationalmortgageprofessional.com