Home improvement big-box stores, get ready. If you think homeowners are sitting idly by this summer trying to beat the heat with their feet up, think again. According to the Zillow Digs Summer Home Improvement Trend and Spending Survey, 60 percent of homeowners plan to make a home improvement or addition this summer.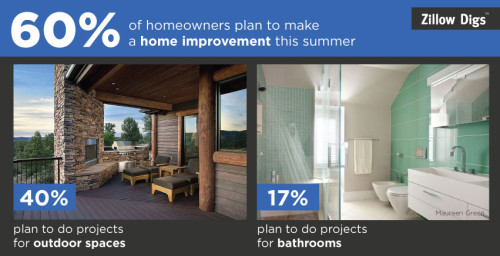 The survey also provides some insight into the demographic and household makeup of the homeowners and what kinds of projects they have in mind: 
Younger homeowners and homes with children are significantly more likely to be planning a home improvement this summer and perhaps as many as three or more home improvements.
Homeowners plan to spend a median of $1,200 on summer home improvement projects.
Homes with children as well as homeowners 54 and younger plan to spend one-third more ($1,500) compared with homes without children and those 55 and older ($1,000).
Some of the most popular summer home improvement projects are outdoor spaces (40 percent) and bathrooms (17 percent).
Ideas for outdoor spaces
Since 40 percent of the home improvement goals will be outdoors projects, we found a few ideas onZillow Digs, where users have shared photos of their favorite outdoor spaces. Instead of infinity pools and sleek modern decks with well-appointed outdoor kitchens, these summer home remodelers prefer camp-like settings that use a lot of stone, particularly stone fireplaces.
Ideas for bathrooms
Of the survey respondents, 17 percent said they plan on redoing their bathrooms. But before you start, get out the squeegee and glass cleaner because frosted glass is out. From glass shower enclosures to glass tiles, Zillow Digs users want open and light bathrooms. Without shower curtains, many homeowners and designers take advantage of the free wall space to showcase beautiful glass tiles.
Survey: 60 Percent of Homeowners Will Make a Home Improvement This Summer | Zillow Blog.