You know that panicked feeling you get when your mobile device isn't immediately nearby? Yeah, this post isn't going to help that at all.
It will, however, give you a handful of useful business apps to further extend that digital Swiss Army knife of yours.
Some of these mobile apps are old favorites, some, like Signals, are brand new. All of them were built to make your work schedule easier and your end-goals more attainable.
So … let's get started, shall we? Here are eight notable apps to help your day and business run better.
1) Signals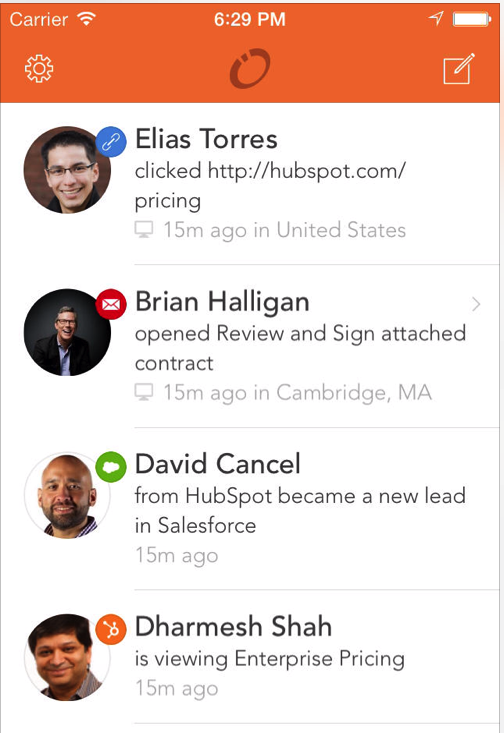 Let's start this list off with a brand new mobile app. Created by HubSpot, Signals notifies you when a contact has opened an email you've sent their way.
Signals started as a Gmail, Outlook, and Apple Mail desktop app, but now users can also track email opens and clicks directly from their iPhones.
From the Reviews
"I've been a desktop Signals user for awhile, and was pleased to see it translate to neatly to mobile. It's really well designed, minimal fuss interface that does exactly what it sets out to do – show you who's read your emails. syncs seamlessly with Gmail and apple mail accounts. You don't even know it's there until you need it"
— santafescribe, iPhone, 12/2013
iPhone: 5 stars with 5 reviews
2) LinkedIn
Likely on many of your mobile devices already, the LinkedIn app is well-regarded for a reason. The app was redesigned in spring 2013 to be cleaner and simpler and make it easier to find what you need.
The app seems built for people who consume information on the run. It enables you to quickly scroll a newsfeed of updates without ever being too far from main functionality like updating your profile, saving job listings, and seeing who has viewed your page.
From the Reviews
"Great mobile version of the site. Well implemented mobile version of the web site. Helps you keep up with your business network contacts while on the go."
— William Buckner, Android, 1/2014
Lower-scoring reviews mentioned privacy concerns, functionality missing from desktop version, and bugs.
Android: 4 stars with 168K reviews | iPhone: 4 stars with 145 reviews
Related: Twitter and Facebook Apps for iPhone and Android. Twitter was made for mobile devices — after 140 characters, your thumbs start to wear out (unless you're a teenager, in which case you can mostly likely write SMS novels by now). Neither Facebook nor Twitter have reviews as strong as LinkedIn for their latest versions, but new versions come out all the time with improvements.
http://blog.hubspot.com/marketing/mobile-apps-list?utm_campaign=blog-rss-emails&utm_source=hs_email&utm_medium=email&utm_content=11652173&_hsenc=p2ANqtz-9MBRvgkIO_oCl9kjycyW4CdZhyvGW3kgWgsjJwWoonD_xjYwFKGiMtzPjajh7aRIpMHOw4xbj9DJVQu28z3lmhcZdGvQ&_hsmi=11652173