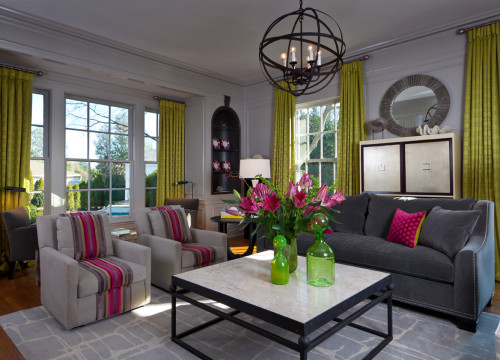 The home is a classic and stately building but designer Jamie Beckwith wanted to bring "youthfulness and glamour" to the home, which reflected the homeowners' lifestyle and worked with the architecture.
The challenge
This space was once a formal dining room with dark wood paneling. The dining room moved to another location, and this space was transformed into a contemporary living room.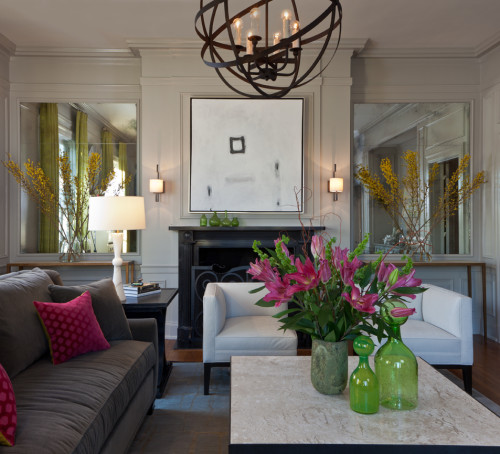 "We covered the paneling with a soft gray paint color that modernized the space," explained Beckwith. "We added mirrors for more light in the room and reworked the seating arrangements for a new layout."
Bold colors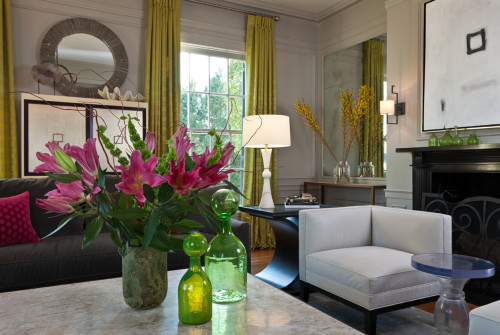 "My favorite part of the room is the unexpected strong color combinations," said Beckwith. "The silk chartreuse drapery panels are out of this world!"
The rug and the furniture are shades of gray and the chartreuse and hot pink are merely accents, which is what makes the room work. The chairs are custom-upholstered with color stripes.
read more….
http://www.zillow.com/blog/historic-home-gets-youthful-update-160738/