Bathroom sink faucet options are limitless, and choosing one can be overwhelming. There are lot of different factors to consider, and every house has different needs. Do you need a faucet that's easy to use for all ages? Is space an issue? Or perhaps budget?
Check out these eight types of faucets to get an idea of what to look for when you're shopping for your bathroom.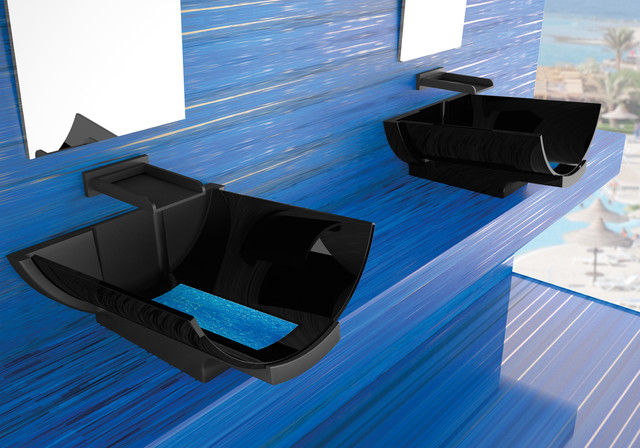 1. Waterfall faucet. With its clean lines and minimalist approach, this faucet lends itself to a more modern style. It's most commonly constructed out of metal and glass.
Some waterfall faucets have beautiful colored designs throughout the glass, which give the bathroom a cheery feel. Others have LED lights, creating a colorful display when the water is flowing.
2. Four-inch-spread faucet. A great budget option, 4-inch-spread faucets (measured from the center of one handle to the center of the other) offer value and functionality. Not only do they come in almost every shape, size and color, but they are also a good space-saving option for smaller vanity areas and can be used in almost any application.
3. Eight-inch-spread faucet. One of the most popular styles today, the 8-inch-spread faucet (also measured from one handle center to the other) comes in many styles and materials. From metal to marble to crystal, the options are almost endless.
You can find an 8-inch-spread faucet in popular finishes (such as brushed nickel, oil-rubbed bronze and the ever-popular gold)  and some not-so-popular ones (such as polished nickel and matte black).
4. Single-lever faucet. Single-lever faucets are very easy to use and are a great option for all styles of bathrooms. They come in a variety of designs from traditional to contemporary.
Single-lever faucets are a popular option because of their simple design and the multitude of colors and styles available.
5. Wall-mounted faucet. Wall-mounted faucets offer the same functionality as countertop-mounted faucets without taking up any counter space. They  also provide a great focal point whether you are mounting them on a sink or a backsplash.
Wall faucet styles range from minimalist to traditional, and many different colors and finishes are available