The red-hot growth in home prices across the U.S. West is starting to slow in some cities as sticker shock and low inventory put off weary buyers.
Denver, Los Angeles and Austin, Texas, have seen gains in real estate values moderate after years of double-digit increases, according to Zillow. A slowdown in the tech epicenter of San Francisco is becoming even more pronounced, with the median home value in August rising less than 1 percent from a year earlier.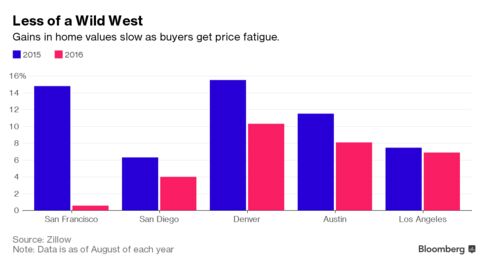 The five-year surge in real estate demand across the West is starting to take its toll in some areas as buyers become more reluctant to purchase a home that would eat up a large chunk of their monthly earnings. With job growth still robust, house hunters are pushing outward from core cities to get more for their money.
"Homebuyers are starting to see a bit of price fatigue and are starting to step back and think twice about making that purchase," said Svenja Gudell, chief economist at Seattle-based Zillow. "Prices have grown so much over the last few years as part of the recovery that many markets are well beyond their initial 2006 or 2007 peak, so homes are now more expensive than they've ever been."
Western cities have led the nation's recovery from last decade's recession with record-setting economic growth and a boom in jobs, particularly in the technology industry, leading to a surge in housing demand. In the past five years, home values have soared 71 percent in Denver, 66 percent in San Francisco and 54 percent in Austin, Zillow data show. Nationwide, the gain was 22 percent.
Buyer Pushback
The prices have gotten too heated for many buyers in Denver, which has seen a slowdown since the beginning of the year, said Wade Perry, a managing broker at Coldwell Banker Devonshire in the area.
"Buyers are starting to push back and say, 'I'm not going to pay that much for that house,'" Perry said.
The median home value in Denver rose 10 percent in August from a year earlier to $353,300, according to Zillow. While that's still one of the top increases in the country, it's down from an almost 16 percent surge in the same period of 2015.
In Austin, which, like Denver, has benefited in part from a spreading tech industry and an influx of well-paid workers, the median climbed 8.1 percent, compared with 12 percent growth a year earlier. Los Angeles's growth slowed to 6.9 percent from 7.5 percent, while in San Diego it decelerated to 4 percent from 6.3 percent.
For San Francisco, where the median home value has soared to $1.1 million, the increase was just 0.6 percent after a 15 percent jump in August 2015. The city's price gains have made it the most overvalued housing market in the U.S., UBS Group AG said in a report this week.
Still Hot
Still, there's no let-up in some other Western tech-heavy markets, such as Portland, Oregon, where home values soared 20 percent in August, compared with 13 percent a year earlier. In Seattle, the 15 percent gain outpaced the roughly 14 percent increase the year before.
Nationwide, the median home value climbed 5.1 percent in August — up from 4.6 percent a year earlier.
A slowdown in home-price appreciation would be a healthy change, said Patrick Carlisle, chief marketing analyst at Paragon Real Estate Group in San Francisco.
"The cooling of a desperately overheated housing market to something closer to normal is not bad news," he said. "The huge increases in housing prices have created enormous social stresses in the area, as well as leading some of our local high-tech companies and would-be startups to look at locating elsewhere."
The overheated markets are pushing some buyers to shift their house hunt to the suburbs, fueling faster appreciation in outlying areas than in the neighboring boom cities, Zillow data show. In the Denver suburb of Arvada, for instance, the median home value in August soared 13 percent from a year earlier. It jumped almost 14 percent in Englewood, a short light-rail ride from downtown.
Moving Outward
Ben and Nicole Irwin began looking for homes in the area last year and soon discovered the Denver properties they liked cost $500,000 to $600,000. The couple ended up paying $390,000 for a three-bedroom house in Arvada, where they were attracted to good public schools, a charming old town and the city's proximity to the Red Rocks Amphitheatre, a popular outdoor concert venue.
"To get the size house we wanted, it would have been out of our price range," said Ben Irwin, a 37-year-old communications manager for the city of Boulder. "We found that we could get those kinds of houses for $150,000 to $200,000 less" outside of Denver.
In Austin, where home prices are higher but sales are down, surrounding towns "have seen incredible appreciation" as buyers seek out affordability in the city's outskirts, said Dave Murray, a broker at DMTX Realty.
read more…
http://www.bloomberg.com/news/articles/2016-09-28/runaway-home-prices-ebb-in-u-s-west-as-weary-buyers-push-back