In Manhattan, the number of newly signed leases climbed 17 percent in May from a year earlier to 5,969, the biggest total for the month in nine years of record-keeping, according to a report Thursday by appraiser Miller Samuel Inc. and brokerage Douglas Elliman Real Estate. In Brooklyn, new apartment contracts surged 23 percent to 1,460, also the biggest total for the month in data going back to 2008.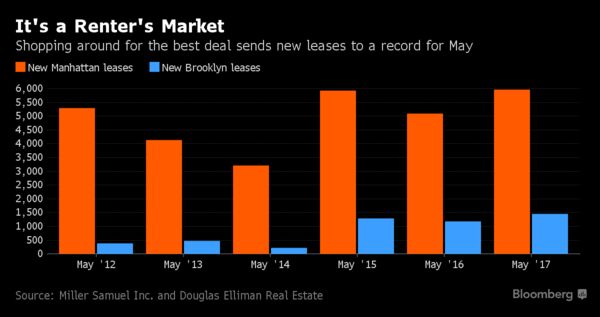 Renters are taking advantage of a market that's crowded with listings, weighing offers of free rent and other perks from landlords who are working to keep their units filled. Twenty-five percent of all new leases signed last month in Manhattan came with some kind of concession from the owner, about double the share in May 2016, Miller Samuel and Douglas Elliman said. In Brooklyn, sweeteners were offered on 15 percent of new agreements, up from 8.8 percent a year earlier.
"They realize, 'I do have quite a bit of options so let me take a look,'" Hal Gavzie, Douglas Elliman's executive director of leasing, said of renters' thinking. "'Let's just test the water and see what's out there.'"
Vacancies Drop
In Manhattan, the surge of renter interest was enough to push down the vacancy rate to the lowest in two years, 1.72 percent, the firms said. It was the first time since 2015 that the figure dipped below 2 percent.
While all that dealmaking helped attract tenants, it kept a lid on rent growth. In Manhattan, net effective rents — calculated after incentives are factored in — were up 0.6 percent in May from a year earlier, to a median of $3,377, the firms said. In Brooklyn, the median rent after concessions dropped 2.1 percent to $2,782.
Some landlords are luring tenants by actually lowering their asking prices — a way to stand out from the crowd where free months of rent and payment of broker's fees have become commonplace, Gavzie said.
read more…
https://www.bloomberg.com/news/articles/2017-06-08/manhattan-renters-seeking-deals-send-leasing-to-a-record-for-may