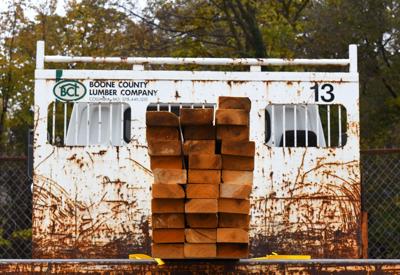 Homeowners looking to add a deck, renovate their kitchen or build a new home likely noticed how expensive the price of building is. The reason: In late summer, lumber prices were the highest they have ever been. And even though those prices have started to fall, it's unclear when construction costs will follow suit.
In September, the price of lumber reached a record of almost $1,000 per thousand board feet, a quantity equivalent to about 190 eight-foot two-by-fours, according to Random Lengths, a trade publication for the wood products industry. That was nearly triple the price from last year, when the same amount of wood sold for about $360. Lumber was selling at around $550 per thousand board feet as of Nov. 10, according to Business Insider data. Those fluctuations have left lumber yards and homebuilders navigating whether to increase prices or absorb losses. Meanwhile, many new construction home buyers are still paying elevated costs.
Boone County Lumber in Columbia, which sells materials primarily to home builders and commercial contractors, has paid more for wood and had to increase its prices in response. Lumber for a job the yard provided materials for in September cost $18,000 more than the products would have for the same job in March, according to owner Brad Eiffert.
Eiffert said he typically sees lumber prices move by $5 or $10 per thousand board feet over one week. Over the summer, weekly prices jumped by $70 to $100 per thousand board feet. They then dropped back down by the same amount in October.
"No one, living or dead, has seen what happened," said Eiffert, whose father owned his lumber yard before him.
Costs for lumber yards have begun to fall as mills catch up to the demand. Seasonality has also affected demand some, as colder weather deters the number of projects contractors can handle and typically causes yards to lower their inventories, Eiffert said. However, several Missouri home builders say they have had to raise their prices as recently as October in reaction to skyrocketing lumber costs.
A 'decade-long train wreck'
What caused the surge of lumber prices during the spring and summer? Many factors over the years are to blame.
"This is a decade-long train wreck that came to meet us in the summer of 2020," Eiffert said.
First, years of pine beetle destruction of forests caused many lumber producers to quickly cut down and sell a large supply of trees in order to salvage as much product as possible. By June 2019, this supply of trees was already dwindling, according to a Random Lengths report from that month.
This lowered the amount of trees needing to be processed, which caused several mills to close last year as demand waned. Log prices rose.
Additionally, in 2017, the Trump administration imposed tariffs of about 20% on lumber shipments from Canada, a major source of the wood used to build American homes.
Now, COVID-19 has caused even more mills to close, especially at the beginning of the pandemic when buyers' demand slowed as they assessed how to proceed in a virus-struck world, according to a Random Lengths report. The last thing on mills operators' minds was production, Eiffert said, because they doubted people would want to build when they were worried about a pandemic.
Additional hits to the timber industry include Hurricane Laura, which caused damage and power outages in mills in the South when it hit at the end of August and the raging wildfires in the West that have devastated many forests, according to an Aug. 28 Random Lengths report. The fires especially have caused mill shutdowns.
All of these elements have created a small supply of lumber that can hardly keep up with customers' demand, which grew through the spring and summer. The result was lumber prices reaching record highs.
Pandemic-driven demand
As it turns out, a pandemic is the perfect time to build. There has been a large demand for home construction and improvements both in Missouri and nationwide since people have spent more time at home.
"Instead of vacation, (people) built decks or they resided their homes," Eiffert said.
Columbia-based New Beginnings Construction, which remodels and builds homes, has been booked with jobs, especially decks, kitchens and bathrooms, owner Nathan Goen said.
"The demand for work in Columbia is so great that every single construction company I know is booked out months in advance," he said.
In fact, New Beginnings has been looking to hire more carpenters to keep up with all the work. Goen has had trouble finding people interested in the role, but he said he would hire if he found qualified candidates.
With all of the demand, the existing lumber supply hasn't been able to keep up, Eiffert said. He has had new customers come to his yard because bigger retailers were out of what they were looking for.
"For the first time that I can remember, there were just actual shortages of product," Eiffert said. "They just weren't there to satisfy customer needs."
Eiffert said the current demand for housing isn't that high relative to the longer-term trend. It's the abnormally low activity from the last few years that "makes it feel so strange," he said.
Homes have been under-built for years, according to an August report by First Trust Advisors. Builders have started about 1 million units per year in the U.S. since 2010, but 1.5 million starts per year would be more on target for U.S. market needs.
"Home builders still need to make up for lost time, until the long-term average is closer to 1.5 million per year, which could mean reaching, and then averaging, a pace of something like 1.8 million starts for the next several years," according to the First Trust report.
U.S. housing starts approached that pace of 1.5 million in September, reaching an annualized rate of 1.42 million, according to U.S. Census Bureau data. The rate is not above historical averages but, rather, approaches levels seen before the 2008 financial crisis, according to data from the Federal Reserve Bank of St. Louis.
The interest for building new homes now is due, in part, to the increased price of real estate, said Brian Toohey, chief executive officer of the Columbia Board of REALTORS. The inventory of homes available is lower than usual — in September, it was down 50% from last year — causing the price of an existing home to be comparable to that of a new build.
Navigating price changes
Goen has had to raise New Beginnings' construction prices to account for the increased lumber costs. Despite those costs, he tries to keep prices low to remain competitive.
"We could have made a little bit more money, so we've lost a little in that respect," Goen said.
But there comes a point when absorbing higher costs begins to hurt the home building business. Consort Homes in St. Louis has had to raise its construction prices incrementally over the last few months in order to remain profitable, said Bill Wannstedt, the builder's vice president and division manager. Each month, the company has raised prices by 1% to 1.5%, he said.
Consort didn't initially raise prices because it wasn't sure how long lumber price increases were going to last. Like many other builders, Consort keeps prices the same for 90 days, so it will not increase prices again the rest of the year. This helps keep consistency with projects.
Higher prices have affected homeowners with smaller budgets more, Wannstedt said. This has caused the number of people who walk into Consort Homes to fall drastically. Wannstedt said he saw his customers per week fall to eight from 27 in September after the company raised prices recently.
The next few months
Goen has encountered customers who want to wait until January to start additions in hopes prices will come down. However, it's unclear whether they will. Wannstedt said that while lumber prices may fall, prices of materials such as appliances and cabinets, as well as the cost of carpenter compensation, could increase at the start of the new year. So it's possible construction prices could hold steady.
Dean Klempke, a real estate agent at Iron Gate Real Estate in Columbia, recommends that people interested in buying new construction homes should do so now because prices may rise another $5,000 to $10,000 next year.
Buyers may also pay lower prices by purchasing inventory homes, Wannstedt said. These are houses that started earlier this summer and are sold now reflecting the prices builders paid for lumber and other materials then. Buyers of those homes may have to sacrifice choosing amenities such as countertop material or flooring, but they also can save a few thousand dollars.
Eiffert expects prices of lumber to continue to fall and stay at moderate levels for the rest of the year. Although prices have been falling at historic rates after hitting record highs, he doubts they will reach record lows.
"If things get fairly inexpensive after what we've lived through this summer, I think people are going to be willing to step in fairly aggressively and have more inventory on the shelf just as a protective measure," Eiffert said.
read more…