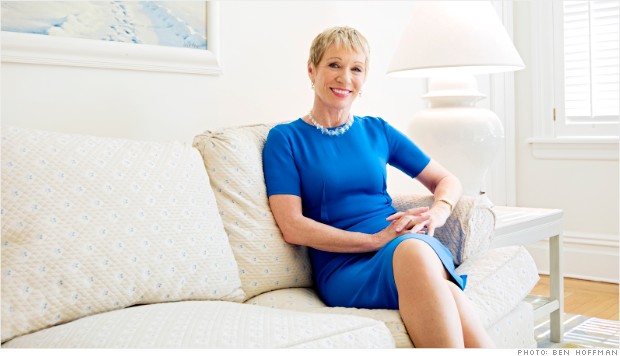 Corcoran in her New York City apartment
(Fortune)
Barbara Corcoran's story would make perfect fodder for movies or TV: A diner waitress with moxie takes a $1,000 loan, uses it to build the first woman-owned real estate firm in New York City, and rises to the top of residential real estate in the city before selling her firm, the Corcoran Group, for $66 million in 2001. Sure enough, the woman who once owned 14 red suits — her visual trademark — eventually found her way to the small screen, with regular roles on the Today show and Shark Tank, a reality hunt for entrepreneurial talent. Her bestselling books share business advice, and today Corcoran, 64, who was once too terrified to speak in public, enjoys giving motivational talks. Her story:
I grew up in Edgewater, N.J., the second oldest of 10 kids, and even though it was a very poor town, I thought we were the Kennedys because my father wore a suit to work. He was a printing-press foreman, and my mother was a housewife.

I went to Catholic school, and it was an accomplishment for me to make straight D's. I say this because there's always a dumb kid in school who thinks grades have something to do with what you end up doing in life. They don't. It's street smarts that helped me succeed. I had 20 jobs before I graduated from St. Thomas Aquinas College in 1971, doing everything from selling hot dogs to being an orphanage housemother in my senior year.
Barbara Corcoran: From waitress to real estate queen – May. 23, 2013.